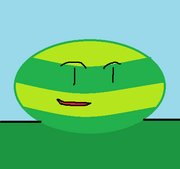 Watermelon
is a bombarding fruit. He will smash into appliances, utterly destroying them. He can't be blended because he is way too big. He has smaller counterparts:
Watermelon Slices
. Some of Watermelon's tactics include smashing appliances by jumping on them and using seed bombs. Watermelon is also Yoybotplant's favorite. The Watermelon is a powerhouse. There is also a Watermelon badge on this wiki for adding 50 pages to categories. It is called Heavy Powerhouse.
Ad blocker interference detected!
Wikia is a free-to-use site that makes money from advertising. We have a modified experience for viewers using ad blockers

Wikia is not accessible if you've made further modifications. Remove the custom ad blocker rule(s) and the page will load as expected.